My boys...the ones that i gave birth to and love with all my heart! The same ones who are driving me insane on a daily basis cause i haven't really had a solid week of work in about 2 weeks! They have found a new favorite game. Do you want to guess as to what it is? I will give you a moment!
Ok do you have your guess?
Well you are probably right if you are a mom of multiple kids. They have found out how fun it is to play in the bathroom. Now this isn't exactly new as they both at one time or another have played in there but the doing it together is new. And it is double the trouble.
We are feverishly trying to potty train MJ. He decided on his own that he no longer wants to wear diapers but instead wants to wear big boy undies. I am just following the lead this time around and letting him figure things out in his own way with a bit of gentle guidance. He is doing great except that he wants to be in the bathroom 24/7 and where he is Phabian thinks he needs to be as well.
This wouldn't be so bad if i felt like sitting watch in front of the bathroom 24/7, but i don't. I have other stuff to accomplish during my days other than sitting in front of the bathroom door. About 3 times a day i find myself running them out of the bathroom and cleaning up what ever mess they have made at the time.
Over the past week or so these are the situation i have ran into.
They have clogged up the toilet about 5 times causing it to over flow. This wouldn't be that bad is the idiot who built this house hadn't put carpet in the bathroom. Do you know how hard it is to clean gallons of blue water off of a pink carpet? Even the though of soggy wet carpet makes me cringe.
I have had 3 bottle of deodorant destroyed. They seem to find it fun to take the deodorant and find anything they can to dig every last piece out of the container out and onto the said above wet floor. I now have went (regrettably) without deodorant for 3 days.
The same above said problem has happened with all my body spray. They seem to think it is bubble stuff or something and open the bottle to poor it down the drain. MJ has even mistaken it for Kool Aid and tried to drink a bit of it but lucky for me i caught him before he was able to down it.
My hair brushes have gone missing. Now i have about 4 hair brushes because i admittedly lose then often myself. Now all 4 of them have disappeared without a hint as to wear they went. Maybe they found there way down the toilet with the whole roll of TP!
Also my counters and mirror have been painted with multiple tubes of tooth paste. Beautiful shades of pink, blue, sparkle blue, and white. If you have never tried to clean tooth paste off of something after it dries then you are lucky. It is like cleaning rubbery glue. If it gets in the carpet instead of a hard surface you minus well give up and by new carpet.
I just am at wits end with this situation. How do you guys handle your kids wanting to play in the bathroom. Is there a trick i am missing? Some kind of trap to stop them. Do i need to rig the door to only open when i say a magic word? What punishment is acceptable? I don't want them to feel like they have to ask to go to the bathroom but at the same time i don't want to clean up 20 gazillion messes a day in the bathroom. HELP!?!?!?!?!?!?!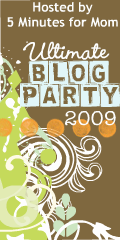 As a side note i am still partying hardy at the UBP 2009 over at 5 Minutes for Mom! Hop on over there and check out the
prizes
and all the people who are
partying as well
. I also added a Mr. Linky to this page so that when you stop by my blog you can leave a link so others can find you.